In 2019 ISS moved its multiple Sitecore properties to run on Copenhagen Mist Azure Blueprint for Sitecore, enabling a consistent approach to governance and security— as well as the unexpected benefit of express migration.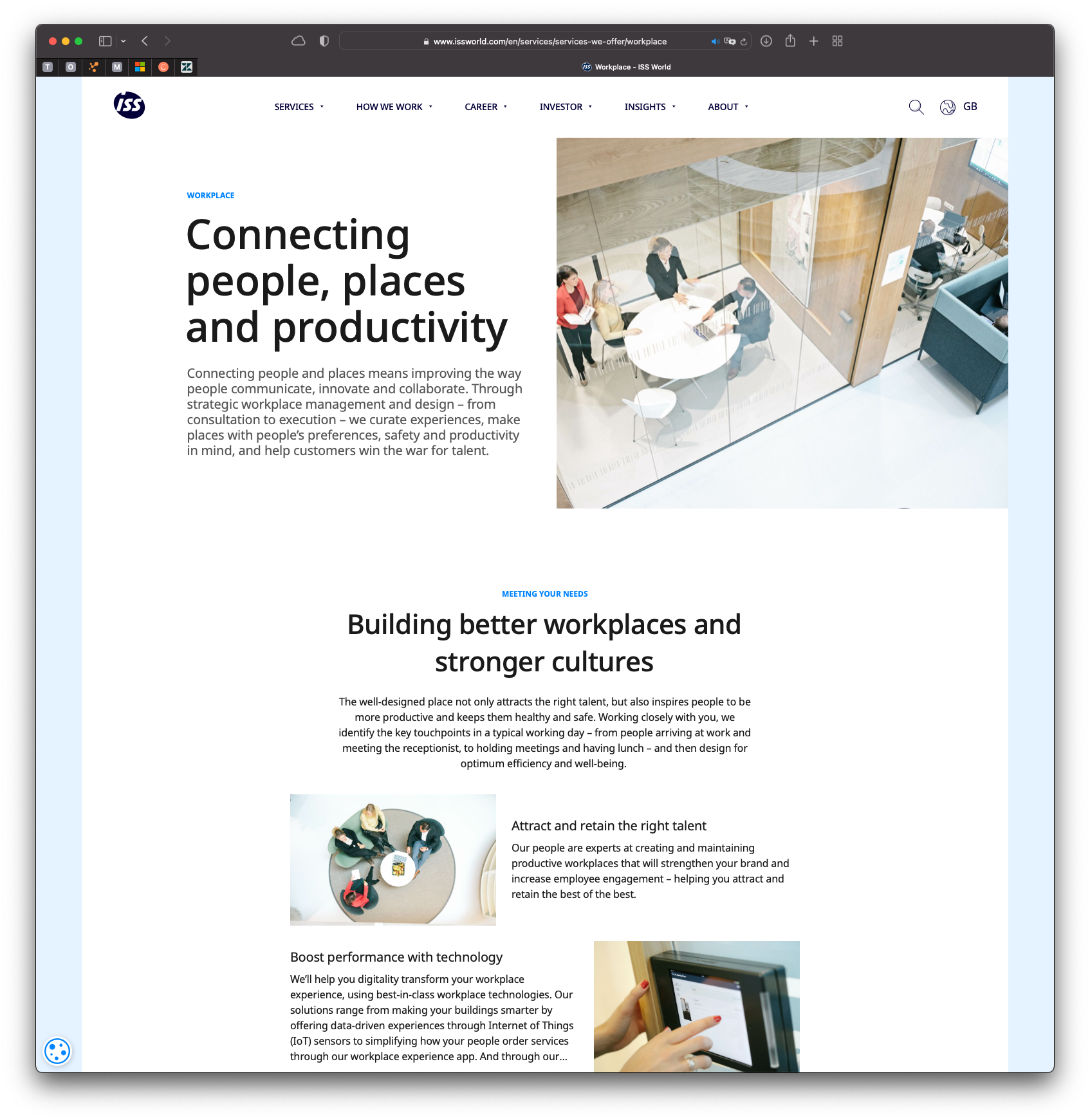 Headquartered in Copenhagen, Denmark, ISS A/S (International Service System) is a global facility services company founded in 1901. One of the world's top 20-largest employers, its 550,000 people, keep companies around the world running with a full complement of services, including cleaning, support, property, cater- ing, security, workplace, and facilities management.
Meeting the stringent requirements of financial customers.
Governance and security don't pertain to just ISS's website operations; they are omnipresent requirements of its overall business. For example, ISS works with companies in a wide range of industries, some of which are governed by strict regulations; banking and numerous other industries must follow specific operational procedures to demonstrate regulatory compliance. Financial companies require on-site third-party personnel, such as cleaning, security, and facilities management personnel, to have clean criminal records. It's a complex task since these workers must not just pass an initial security screening, but also affirm their crime-free status periodically. Workers in other industries must frequently document their compliance with various security, training, and related requirements.
ISS, therefore, counts on the availability and performance of its human resources (HR) compliance website to allow employees to verify submit documents and answer questions around the world, around the clock. The personal information provided by employees is highly sensitive and must be protected with robust security measures. By running its HR compliance website on Azure Blueprint for Sitecore— just one of numerous internal and external web properties ISS operates on the reference architecture—the company achieves consistent global governance and security standards, a must-have in demonstrating regulatory rigor to its financial customers.
AZURE BLUEPRINT GOVERNANCE
Streamlined site governance, globally
At a corporate level, Azure Blueprint for Sitecore allows ISS to achieve the same benefits—consistent governance and security standards—across its portfolio of web properties.
Azure Blueprint for Sitecore is a fully managed reference architecture that delivers best-practice Azure environments for Sitecore solutions, enabling, in turn, a repeatable, consistent approach to site governance, explains Jesper Ravnsgaard, founder and chief technologist at Copenhagen Mist. Blueprint is a pre-configured best-practice solution built for speed, security, global scalability, and high availability—exactly what ISS's worldwide operations require, He continues.
Copenhagen Mist maintains a global network of delivery nodes across multiple continents to deliver the highest levels of site performance. Additionally, Copenhagen Mist provides a full range of enterprise-grade security protections for all Blueprint customers, including:
Layered network isolation
Backup and disaster recovery
WAF with OWASP CRS 3.0 prevention Security operations center
Hardware-stored encryption key -with built-in key rotation
Distributed denial of service (DDOS)- attack protection.
AZURE BLUEPRINT TURNKEY IMPLEMENTATION
Handing a Fast-track Migration With Ease
ISS engaged Copenhagen Mist to do a fast-track migration to its new Sitecore 9 site, leveraging Azure Blueprint for Sitecore. Completed in 18 hours.
A Sitecore Experience Award winner, ISS recently launched a new corporate website developed on Sitecore 9, in the Microsoft Azure cloud. To ensure continuity of the visitor experience, ISS engaged Copenhagen Mist to do a fast-track migration to its new Sitecore 9 site, leveraging Azure Blueprint for Sitecore.
Ravnsgaard comments, Blueprint greatly accelerates Sitecore Azure solution delivery because it is a fully configured Azure reference architecture available from day one of deployment. In addition, Copenhagen Mist continuously improves Blueprint over time, to take advantage of new features in the ever-evolving Azure cloud environment.